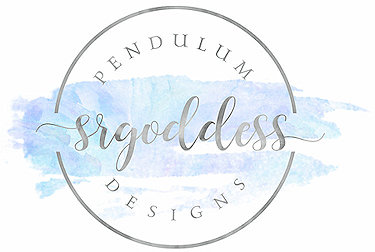 What's included with my Pendulum?

Each Pendulum comes as a set, which includes a soft velvet double draw ribbon pouch adorned with the same gemstones/findings that are used on your Pendulum.
My comprehensive instruction sheet, which has instructions for the use of the sweet silver sage that is also included in your set. A silver polishing cloth is included with Sterling Silver Pendulums.

What kind of metals do you use?

I primarily use Sterling Silver. If there are any elements that are Pewter, that information is included in the listing. Working with mixed metals has been fun, so you will see listings with Antiqued Brass. Occasionally Copper.

What kind of stones do you use?

Semi-precious and precious gemstones. These include, but not limited to: Amethyst, Baltic Amber, Rose Quartz, Lapis Lazuli, Clear Quartz, Aqua Aura Quartz, Tourmaline, Connemara Marble from Ireland, Turquoise, Garnet, Pearls, Aquamarine, Rainbow Moonstone, Labradorite, Iolite, and many more! Artisan handmade beads of other materials are sometimes used.

How do I take care of my Pendulum?

It's a good idea to store Sterling Silver Pendulums in a zip lock bag (included) to prevent tarnish. The silver polishing cloth, included, will remove light tarnish and polish your metal. Never use toothpaste and a toothbrush to polish Sterling Silver, as it is abrasive and will cause scratches on the surface. Never use salt or salt water, as it is corrosive to many gemstones.
Antiqued Brass and other metals do not tarnish. Although, Copper will darken and patinate with time.

Are Pendulums shown in the Gallery on the home page for sale?

These are Pendulums which have been sold, but if there is one you really like, please contact me and we can work together to create your Pendulum.